We have been supporting people here since 1989 providing 24 hour care.

Shaldon understands the unique needs of each person enabling them to reach their full potential..

Shaldon House is situated in a quiet suburb of Bristol with a Victorian Park with a picturesque lake close by.

Shaldon House Care Home: Shaldon Road, Horfield, Bristol. BS7 0117 951 8884
WELCOME TO SHALDON HOUSE
Welcome to Shaldon House, please visit us at any time. 
When you visit you will be able to meet people who live here, people who work here and you can get to see how we interact with everyone.  Have a chat and a cuppa and really get a feel for the place.
We have been supporting people here since 1989.
Call us on 0117 951 8884
email us - info@shaldoncarehome.co.uk
A FIRST FOR THE UK!. Using technology to help families, staff and visitors to confidentially report on their experience at Shaldon.
Read More on our NEWS PAGE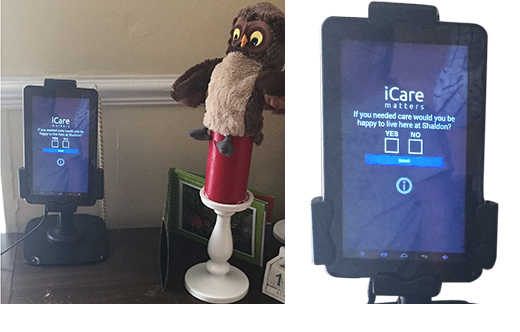 LATEST NEWS
November 2020 For all visiting details please call Tracy at the home. 
April 2018 Delighted that Tracy Connolly has formally been appointed as Registered Manager of Shaldon House.  We all welcome Tracy and are so pleased that she is part of the team.

November 2017 Sorry for the lack of updates, we have been busy. Plans for the new extension in the garden have commenced again! It has been difficult to find a local builder to undertake the works. Hopefully we can start in the Spring of 2018.
October 2017 Please note that our general email address has changed to info@shaldoncarehome.co.uk 
December 2016 Our latest CQC rating is GOOD. Still lots to do but we are delighted to have achieved this rating
July 2016- What a fantastic day for everyone at Shaldon. A wonderful BBQ on a lovely sunny day (yes, sunny!) Thank you to the team who made this happen and great to see so many family members as well.
April 2016- Our latest CQC Rating is a GOOD. Really well done to the team. 
July 2015- A FIRST FOR THE UK. Using technology to help families, staff and visitors to confidentially report on their experience at Shaldon. Using an interactive iPad available for people to  complete a simple survey online helps to allow people to give feedback. The results are sent to head office for monitoring and further action if there are any negative results.
April 2015- Each weeks activity meeting is now held on Thursday. Great for discussing and communicating about ideas for the next week
April 2015- Menu planning is now run every Thursday with everyone living at Shaldon. This helps plan next weeks menus. Some really lovely ideas have been proposed
September 2014 -New staff care station is now up and running. This means more space for care plans, documents and paper! Also secure lockers for people working at Shaldon
August 2014 - Sandra and Lil's office is finished! A great new facility with level access and a lovely light and bright outlook. 
August 2014 - More adaptations and improvements at Shaldon. A newly upgraded ground floor shower room has been created with level access for ease of use for all. Guess what? Our man Terry has done it again, Terry has created a fantastic new shower room already being enjoyed.
July 2014 - Once the work had started on the laundry move, it was decided that the existing office be moved as well. This was now quite a large job for Terry but he tackled it with his passion and skill. Thank's Terry!
June 2014 - What wonderful travels for one of the residents at Shaldon. Richard had the trip of a lifetime to Canada. All of us wanted to go!
May 2014 - Terry our maintenance man is moving our laundry to make room for more storage and better facilities within the home. Well done Terry!!
April 2014 - The Care Quality Commission made an unannounced inspection of Shaldon House on the 4th April 2014. We are really proud of the report which can be viewed HERE
April 2014 - Shaldon House made a planning application to build 2 further self contained suites in the rear garden offering "move on" accommodation. The design is having to be remodelled to allow for improved parking and access. Let's hope the local planning authority are happy with the new design.
February 2014 - A trip to Weston Super Mare had to be cancelled due to the terrible weather conditions. Luckily there were no trees down at Shaldon.
September 2013 - Shaldon is delighted to welcome Michael into his new home. Michael recently moved into his new home on the ground floor.